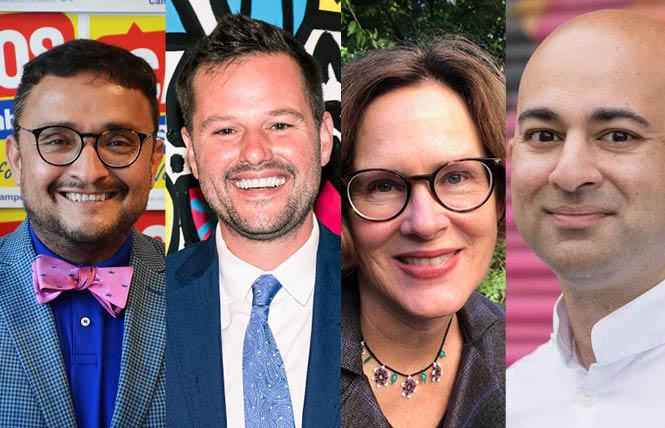 Wiener remains neutral in SF Assembly special race
[ad_1]
While the ballots for the February 15 special election in San Francisco are expected to start arriving in voters' mailboxes on January 18, most of the city's elected leaders have already approved the race for the open seat on the 17th. Assembly district. Yet one name is conspicuously absent among the supporting lists of the four Democrats seeking state legislative office.
Gay state senator Scott Wiener (D-San Francisco), one of the city's most senior elected LGBTQ leaders, did not support any of the candidates. He also doesn't plan to do so, he told the Bay Area Reporter.
"For now, I'm staying out of that," Wiener said in a telephone interview on Jan.4. "Things can certainly change, but at this point I don't intend to support the race."
He added of the competition: "This is a very large group of progressive and hardworking applicants. One of them will be my colleague, and I look forward to working with anyone."
Wiener's decision is hardly a surprise, as the two main candidates are both members of the progressive camp of the local Democratic Party and did not support Wiener, who is part of the more moderate wing of the party, when he stood for re-election in 2020. District 6 Supervisor Matt Haney, a heterosexual ally, and former District 9 gay Supervisor David Campos had both supported Wiener's queer opponent, Jackie Fielder, in that race.
The fact that Wiener remains neutral also reflects the hope that neither of the two more moderate candidates for the assembly, who are both straight, will likely qualify for the second round of the April 19 election. The two nominees are City College San Francisco administrator Thea Selby and former Obama administration member Bilal Mahmood, who will kick off the 2022 campaign at 11 a.m. on Saturday, January 22.
Most political observers expect Campos and Haney to be the main voters next month, but neither are seen to be able to secure the 50% plus one threshold needed to win the seat. straight away. According to the mid-December poll released by the Campos campaign, he was at 30% with "determined voters" and Haney at 25%, while Mahmood signed in at 14% and Selby at 4%.
In the race for campaign contributions, Haney last week reported raising more than $ 675,000 for claiming to have garnered the most candidates. Campos' campaign told BAR he had raised more than $ 350,000. While official fundraising reports have yet to be filed with state election officials, Mahmood said he raised more than $ 450,000, while Selby set a goal of raising 5,000. $ during the last weeks of December. (Her campaign didn't respond to a request before the deadline to do so on Friday for the total amount she raised last year.)
The quintet is seeking to succeed former Assembly member David Chiu, who resigned in November when he became the first Asian-American city attorney in San Francisco. Also a Democrat, he also remains neutral in the fight to succeed him in the Legislative Assembly.
As one of the four candidates will be his new legislative colleague, Wiener told BAR he had made himself available to them in recent months.
"I have a door completely open to the four candidates. Anytime one of them requests a meeting or a phone conversation, I make myself available," Wiener said.
Campos and Haney both noted at BAR that in various races, whether theirs or other contenders, they have been in different camps than Wiener. Nonetheless, each said they had been able to work collegially with Wiener over the years and would do so by serving alongside him in the state legislature.
"I think it was something he didn't approve of against me," Campos said, noting that he didn't have Wiener's backing when he first asked for the seat of the 'Assembly in 2014 and lost to Chiu.
"We have had very positive conversations over the past few months," Campos added. "We are both determined to work together if I am in the state legislature."
Haney told BAR he believed he had "always had a good relationship with Senator Wiener," adding that he had supported many bills he drafted in Sacramento. "We have a very respectful and positive relationship. Even on the other side of the election, we have always been very friendly. He can confirm, I think, that we can work very well together."
The AD 17 headquarters covers the eastern neighborhoods of the city, including the LGBTQ neighborhoods of Castro, Tenderloin, and South of Market. The winner of the special election will serve Chiu's term until December and must run for a full two-year term first in the June 7 primary and then in the November ballot.
If he wins the race, Campos will not only return San Francisco's LGBTQ leadership to the lower house of the Legislative Assembly, he will be the city's first Latin American member and first immigrant.
The city's other Democratic Assembly member, Phil Ting, backs Campos in the race. Ting did not respond to a request for comment for this article until the Jan. 7 deadline.
But during a press conference in November with other leaders from Asian and Pacific Island cities supporting Campos, Ting noted that the two have a "long history together" of working to help other immigrant families like theirs, as well as middle-class and low-income families. in San Francisco.
"David is going to be the best representative to join me in continuing this fight in Sacramento," Ting said.
In addition to voting by mail, since all currently registered voters will receive a ballot for the February 15 special election, people can also vote at the town hall polling center starting January 18. The last day to register to vote to receive a ballot in the mail is January 31, otherwise people can do so in person at polling stations that will be open on polling day.
Also on the special ballot is the removal of three members of the San Francisco School Board: President Gabriela López, Vice President Faauuga Moliga and Commissioner Alison Collins, who was ousted from her post as Vice President of the last year by his colleagues on the board. Assessor-recorder Joaquín Torres is also seeking to serve the remainder of the term of former assessor-recorder Carmen Chu until early January 2023.
After the Mayor of London Breed appointed Chu as the city's new administrator, she appointed Torres as her successor. Since no one else has applied, Torres should easily keep his post in the February 15 election and will have to run for a full four-year term in November. His father is former state lawmaker Art Torres, who declared himself gay when he stepped down as president of the California Democratic Party in 2009.
For more information on how to vote in special elections, click here.
Oregon House gay candidate ends campaign
Former San Francisco resident Kevin Easton, who was the first openly gay man to run for Congress from Oregon, suspended his campaign last week to stay focused on his work for the state government . He is the second West Coast LGBTQ congressional candidate to end his bid for a House seat this month.
Easton, who had worked for former city attorney Dennis Herrera, was one of two House candidates in Oregon. Former Santa Clara City Council member Jamie McLeod-Skinner makes his second attempt to win a seat in Beaver State Congress.
Easton was seeking election to the new seat in Oregon's 6th Congressional District, which he obtained due to the decennial census tally. But he announced on Jan.6 that he has decided to stay focused on his new job as a state investigator working on claimants' fraud and misrepresentation in state and government unemployment insurance programs. federal.
"I love the job and I owe it to the Oregon taxpayers to devote myself one hundred percent without the rigors of fundraising and to run a proper congressional campaign," Easton said. "I care deeply about federal politics and am very proud of the campaign we have waged so far. A big thank you to all my supporters for believing in me. For personal and professional reasons, this is just not my year to win an elected position. . "
Gay veteran Joseph C. Rocha also ended his candidacy for the newly-drawn 48th California Congressional District in the San Diego area last week. Rather than face Republican Congressman Darrell Issa, who currently represents the suburban seat of the 50th Congressional District northeast of San Diego, Rocha is now running against State Senator Brian Jones (R- Santee) in the newly designed 40th Senate District.
Their decisions mean there are now four LGBTQ House candidates on the West Coast considered to be running viable campaigns this year. Gay Congressman Mark Takano (D-Riverside) is seeking re-election in the new 39th Congressional District, which largely mirrors his current 41st Congressional District.
Former gay federal prosecutor Will Rollins is one of several Democrats running against Conservative Congressman Ken Calvert (R-Corona), who currently represents the 42nd Congressional District. They are now looking for the new 41st Congressional District which includes much of the Palm Springs area.
And Long Beach mayor Robert Garcia could become the first gay Latino to represent California in the House. He is looking for the new 42nd congressional district with a Latin majority.
Assembly member Cristina Garcia (D-Bell Gardens) is also seeking the open seat which includes a number of cities in southwest Los Angeles County. The two current members of Congress who ended up in the new district, Alan Lowenthal (D-Long Beach) and Lucille Roybal-Allard (D-Downey), have decided not to run again this year.
Stay up to date on the latest LGBTQ political news by following the Policy Brief on Twitter @ http://twitter.com/notespolitiques
Do you have any advice on LGBTQ policy? Call Matthew S. Bajko at (415) 829-8836 or email [email protected]
Help the Bay Area Reporter keep going through these trying times. To support local, independent and LGBTQ journalism, consider becoming a BAR member.

[ad_2]