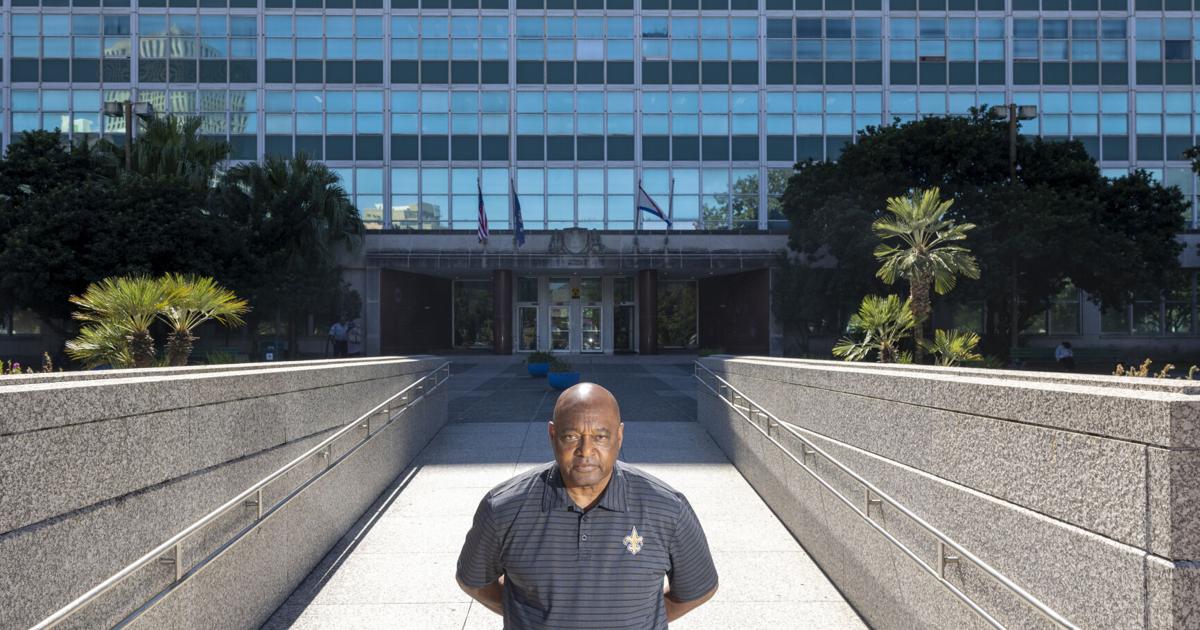 This Marine Corps veteran "doesn't play." Can he fix the streets of New Orleans? | Local policy
Six months ago, officials from New Orleans' $2.2 billion streets and waterways program promised big changes were coming, to speed up projects that were bogged down in endless delays.
Today, city council members say they are still inundated with cries for help from weary residents of the 2,800 blocks under construction. But they hope a 26-year-old Marine Corps veteran tasked with turning around the ailing program, Joe Threat, can continue his mission.
In an interview last week, Threat said he takes to the streets to talk to contractors, engineers, project managers and residents — and bumps into each other when necessary. On Thursday, he visited the Vincennes Place home of Karen Kersting, who showed him the convoluted construction work that left his sewer line looking like a "noodle".
"I like him a lot, because he's just as horrified as the rest of us," Kersting said afterwards. "He listens and tries to find ways to identify how we move forward with this work, and not keep making mistakes."
Impossible mission
Threat, previously responsible for delivering projects in Mayor LaToya Cantrell's administration, was elevated to deputy director general of infrastructure following the departure in May of his boss, Ramsey Green. He said that when Cantrell offered him the job, he asked for a weekend to think about it. She called him back the next day, telling him the administration couldn't wait.
"When I took this job, it was like walking into a lion's den in pork chop pajamas," Threat said. "I knew when the mayor asked me what I was getting into."
Among his myriad responsibilities, Threat has authority over the massive FEMA-backed program that aims to rebuild 400 miles of streets. So far, the administration has completed 139 projects costing $455 million; Another 57 projects valued at $635 million are currently underway, according to the administration.
In the opinion of many neighborhood leaders, the vast agenda turned into a mess in the last two years of Cantrell's first term. The streets were torn up again and again as entrepreneurs uncovered new problems. Poor planning has turned neighborhoods into labyrinths of traffic cones and sidewalk cuts.
Frustration was a factor that fueled the election of a new set of City Council members in 2021. And in April, after hearing testimony from a phalanx of weary residents, the New Faces voted to retain the money from the Ministry of Public Works until he has mastered the job.
"He does not play"
Threat has taken it upon himself to mend the administration's relationship with council members, who are often the first to hear complaints.
Council member Lesli Harris, who campaigned with an ad that showed her struggling to navigate her neighborhood, called Threat a "breath of fresh air." He made about 35 site visits, including several in his District B.
" He does not play. During these visits, he does not mince his words with the contractors, with the [subcontractors] or with his team, or with me," she said. "He's absolutely saying, 'That's not fair. We have to fix it. "
District A council member Joe Giarrusso said he saw contractors called for not showing up early for meetings. The threat says he told contractors to vacate residents' lawns.
Despite his outspokenness, Threat also won over the construction companies that the town hall hires for the work. In February, Louisiana Associated General Contractors regional manager Andre Kelly called the relationship between the industry and city hall "toxic."
Not anymore, Kelly said recently: contractors are getting payments approved faster, a long-standing pain point, and communications from town hall have improved a lot.
"I would say Joe Threat and his mission-focused approach to leadership is exactly what the department needed," Kelly said.
Although Threat's responsiveness has earned him kudos, members of the city council say his mere presence hasn't quelled the frustration they hear on a daily basis.
Giarrusso, whose office tracks street work complaints, has a graph showing they increased during Threat's months of work. Complaints about streets and other issues within the Department of Public Works, such as streetlights, far exceed other departments.
Part of the problem, according to Giarrusso and a report released last week by New Orleans Inspector General Ed Michel, has been turnover at the top of the Department of Public Works and the Board of Sewers and Water.
The man who had served as acting director of public works for more than a year, Josh Hartley, resigned in August. Threat said he was interviewing candidates for a successor, who would report to him, in early October. He also promises to stay to complete the street program, whose nominal deadline is next summer.
Finally change?
Despite new management at City Hall and improved working relationships with private contractors, it's still not hard to find residents and business owners whose lives have been cut short by harsh conditions. nightmarish street.
Near Earhart Boulevard, Broadway Bar neighborhood watering hole owner Oscar Poydras says it hasn't been able to open in two years due to street and sidewalk closures that began just as the early closing of bars in the event of a pandemic was ending. Instead of being filled with New Orleans Saints or second-line fans stopping by for a toast, his bar is empty. Construction vibrations have damaged the structure of the building, he suspects.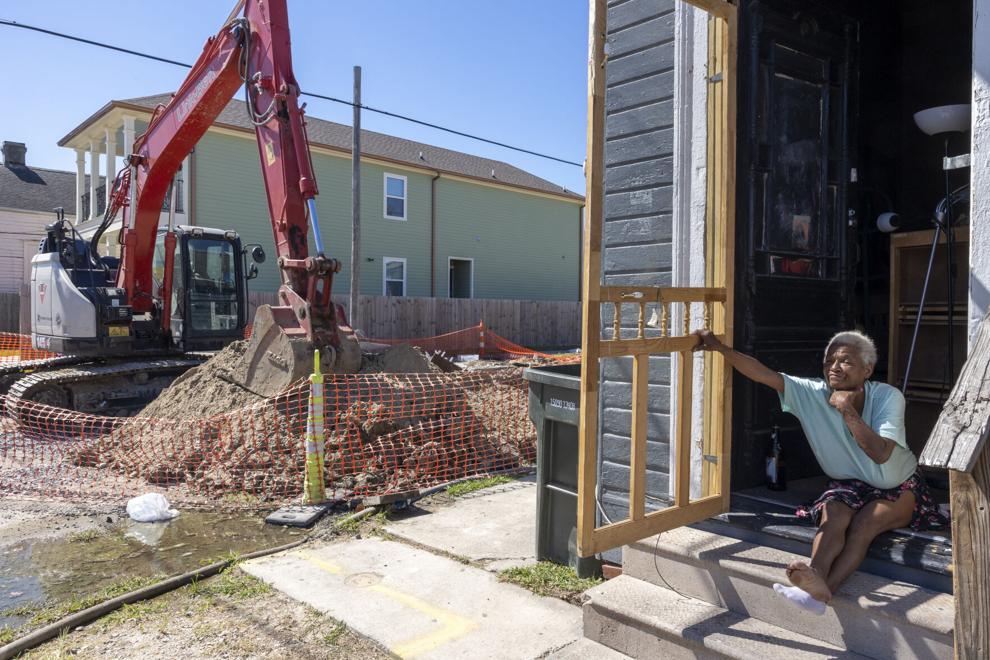 "It's just a big mess here," he said. "It's been a real financial stress for me."
A few blocks from Vincennes, Kersting described a series of street cuts since work began in April as contractors uncover new problems underground. A long-time construction project manager herself, Kersting believes a lack of coordination and information from the Sewerage and Water Board, the town hall's partner in the infrastructure program, has compounded her problems. piece.
"They dug and re-digged and dug and re-digged. And we were told there might still be some digging to do," she said.
City officials acknowledged a historic communication gap with the S&WB, which was exacerbated by a rush between 2018 and 2020 to launch the projects to demonstrate progress to FEMA.
However, officials say 19 projects will be completed by the end of this year. In their place, the contractors will begin work on 12 new projects in the first quarter of 2023, said Sarah Porteous, acting director of public works.
Threat said Cantrell asked him to deliver some "wins", and he delivered on Tuesday, when officials held a press conference to mark the completion of a 24-block project costing $8.5 million. in the Lower 9th Ward. The reconstruction of these streets began in June 2020 and was originally scheduled to be completed in fall 2021.
The administration recently gave the green light to the first four projects with a new style of contract, which requires companies to complete work on one section of blocks before starting another. Since August 2021, the administration has hailed the approach as the answer to residents' prayers, though none of the new projects have reached the notice of prosecution stage so far.
Millions on deck
While some residents might think they've had all the street projects they can handle, there are plenty more to come. Currently, the administration has 38 projects worth $435 million in the bidding and contract award phase, 79 projects costing $471 million in final design, $193 million in preliminary design and $280 million in planning.
Giarrusso believes the new projects will be the true test of the new direction of the overall program.
"He inherited this system which is such a mess," Giarrusso said. "I think where Joe really needs to be judged is the new projects that get lauded."
More changes are coming, Threat said. Most notably, the administration last week asked project management companies for proposals to guide strategic decisions on the infrastructure program.
While this job only requires five employees and possibly a few million dollars, Threat hopes it will help the administration prevent some of the most pressing problems encountered so far, such as neighborhoods that have been locked down by several projects launched at the same time. The winning company will also manage relations between the administration and the Sewerage and Water Board.
Harris, the board member, said the contract should have been issued years ago, but better late than never. On Friday, she allowed herself a bit of cautious optimism.
"I think there will be light at the end of the tunnel. I hope," she said.