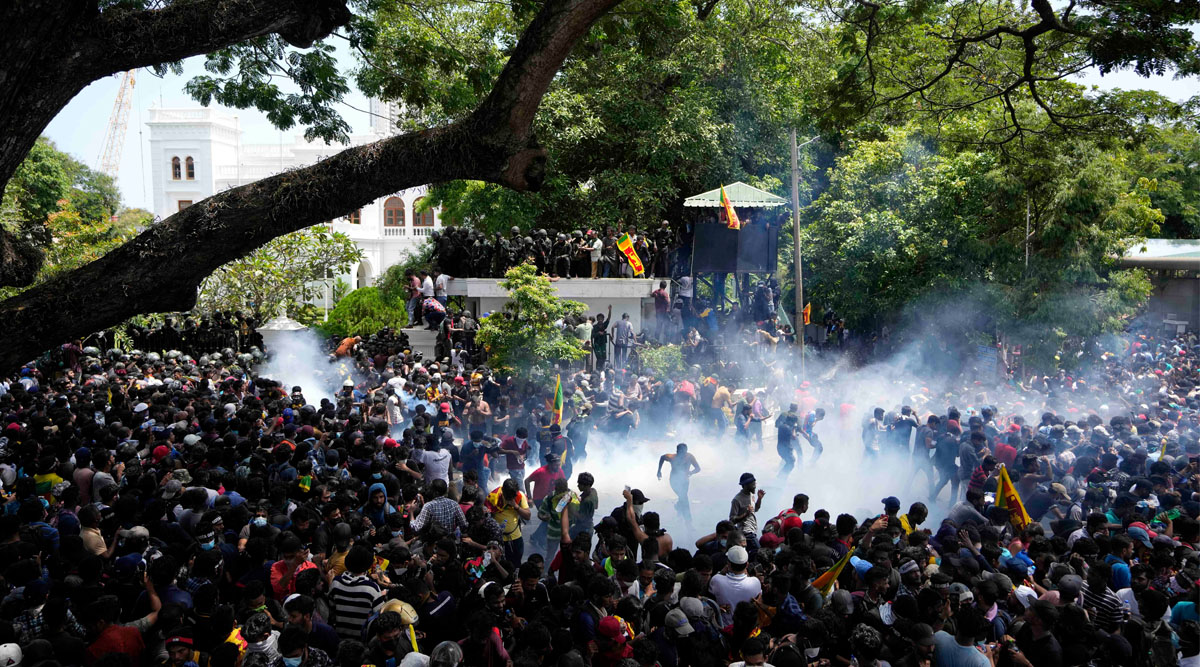 Sri Lanka reimposes curfew in Western Province, no sign of Rajapaksa stepping down
Sri Lankan authorities reimposed a curfew in the Western Province on Thursday as confusion prompted the resignation of President Gotabaya Rajapaksa after he fled the country amid the country's worst economic crisis in decades.
Rajapaksa, the 73-year-old leader who vowed to step down on Wednesday, appointed Prime Minister Ranil Wickremesinghe interim president hours after fleeing the country, deepening the political crisis and sparking a new wave of protests.
At least 84 people have been hospitalized as protesters clashed with security forces at the Prime Minister's Office and the main junction to parliament since Wednesday afternoon after Rajapaksa fled the country.
Police fired tear gas and water cannons at crowds trying to break through barriers and enter the restricted area.
Police spokesman Nihal Thalduwa said protesters seized a T56 gun and 60 bullets from a Sri Lankan army soldier. A police complaint has been filed, police said.
Authorities on Wednesday imposed a curfew in Western Province following the eruption of violence. The curfew was lifted in the morning. But he had to be reimposed amid fears of violence as there was no word from Rajapaksa on his resignation.
President Mahinda Yapa Abeywardena said he had advised President Rajapaksa to submit his resignation letter as soon as possible, citing that he too was under pressure, News First Lanka reported on Thursday.
He said that since an interim president was appointed, the president's office is studying the legal provisions to consider the option of "having his position vacated" if the president does not hand in his letter of resignation, the report adds. .
A spokesperson for the Sri Lankan parliament said that since the president had not yet handed in his letter of resignation, it was uncertain whether parliament would be convened on Friday.
The prime minister's media division said on Wednesday that the interim president had informed President Abeywardena to appoint a prime minister acceptable to both the government and the opposition.
Wednesday's protests were more directed against Wickremesinghe. Calls for his resignation intensified after his appointment as interim president.
Political party leaders are calling on him to step down so that President Mahinda Yapa Abeywardena can take control as interim president.
Wickremesinghe, in a statement, asked the President to find a suitable candidate to become prime minister in a multi-party caretaker government.
However, the protesters demanded that the caretaker government be made up only of politicians acceptable to them.
Meanwhile, President Rajapaksa has left the Maldives for Singapore, sources said.
Rajapaksa was unable to board the flight to Singapore from Male due to security concerns on Wednesday evening.
Rajapaksa reportedly raised safety concerns about taking a civilian flight and urged Maldivian authorities to land a private jet in Singapore.
Meanwhile, anti-government protesters in Sri Lanka decided on Thursday to vacate some of the landmark administrative buildings, including the president's house and the prime minister's office, which they have occupied since April 9.
Rajapaksa, who enjoys immunity from prosecution as long as he is president, fled the country before resigning to avoid the possibility of arrest by the new government.
On Saturday, after thousands of protesters stormed his official residence, blaming him for the unprecedented economic crisis that has brought the country to its knees, Rajapaksa announced he would step down on Wednesday.
Rajapaksa's flight to the Maldives was brokered by the Speaker of the Maldivian Majlis (Parliament) and former President Mohamed Nasheed, sources in Malé, the Maldives' capital, said.
Sri Lanka, a country of 22 million people, is in the grip of an unprecedented economic crisis, the worst in seven decades, leaving millions struggling to buy food, medicine, fuel and other necessities.
Last week, Prime Minister Wickremesinghe declared that Sri Lanka was now a bankrupt country.