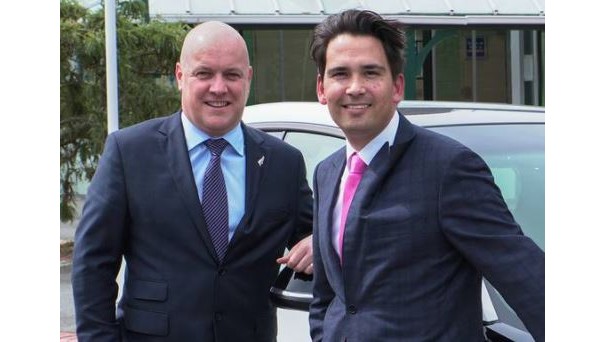 Rate the suitors | interest.co.nz
By Chris Trotter *
Let's put something aside from the start. There is nothing new in the fact that a former leader of the National Party regains this post a few years after losing it.
These "experts" who blithely reject the likelihood that New Zealand will follow in the footsteps of Australian political parties, really do not deserve this description. Wasn't it Bill English who led the National Party to the worst defeat in its history in 2002?
And isn't that the same Bill English who took over from John Key as National Party leader – and prime minister – in 2016? With that established, I hope readers will find the prospect of Simon Bridges Redux (if that is the end result of this competition) a little easier to accept.
Whether Bridges is the right fit for the job is, of course, a very different question. A candidacy that deserves as much attention as the putative candidacy of Christopher Luxon. Given the general agreement among National Party observers that one of these two candidates will be the next leader of the opposition, it seems reasonable to weigh the pros and cons of the two men.
Bridges first.
Whether Simon Bridges can become the first national politician of Maori origin to lead his party is, potentially, a very big problem.
Although very few people engaged in mainstream politics are ready to admit it, the future of Maori and the future of Aotearoa New Zealand are increasingly intertwined. The country's politics cannot escape this uncomfortable fact. The young people of 2021 – as the bitter grievances surrounding the Pfizer vaccine rollout attest – are disproportionately Maori. Far too many of these young people are insufficiently prepared to shoulder the burden of preserving the economic and social well-being of their countries in the years to come.
The aforementioned Bill English understood the frightening dimensions of Maori underperformance better than most of his fellow parliamentarians. This was one of the main drivers of his "social investment" strategy – an imaginative political initiative that was sadly left to fail under Bridges 1.0, Todd Muller and Judith Collins. If he succeeds in his attempt to regain leadership of the National Party, Bridges 2.0 could do a lot worse than take the idea of ​​English and follow it.
Dramatic policy changes in education, health, housing and prison services cannot be avoided in the years to come if Aotearoa-New Zealand is to avoid crippling skills shortages in its workforce. national work. A country that becomes dependent on imported skills cannot hope to exercise a decisive influence on its future development. If Bridges put himself at the forefront of this debate and gave his party the ideological space to develop new and innovative solutions to the problem of Maori underperformance, then National could steal a winning election march against Labor.
The government, pushed by its large Maori parliamentary group, clearly understands the urgency of the underperformance of indigenous people. Its solutions, however, are those of racial radicalism that many Pakeha (and quite a few Maori) reject as constitutionally wrong. If Labor proceed in the manner suggested in the He Puapua report, a considerable political division seems inevitable. A National Party led by a Maori politician no less grasping the importance of indigenous underperformance, but promoting policies aimed at equally benefiting all underachieving citizens, could position itself as a force of unity. and progress.
There is strong evidence in Bridges' autobiography that he gave a lot of thought to what it means to be a New Zealander in the 21st century. National is not the party most people think of when it comes to these kinds of issues – especially those affecting the future of the Maori. It was, however, the party that, under Jim Bolger and Doug Graham, initiated the treaty settlement process. It should also not be forgotten that it was John Key who sent Pita Sharples to New York to sign the United Nations Declaration on the Rights of Indigenous Peoples.
In the chapter on running in Bridge's National identity, he contrasts his own way of being Maori to that of Maori Party MP Rawiri Waititi – with whom he went to school:
"Today Rawiri has a full face moko, which is beautiful and fierce and that I am in awe of. But you couldn't pay me a billion dollars to do this to me. Pain would be one of the reasons. the other is that it would change who I am – it's not me. Rawiri's tikanga is not part of my daily life and never will be. Nonetheless, New Zealand needs to understand that I am Maori too. than Rawiri. Do not despise him and do not despise me. He is not too Maori and I am not too Pākehā. [New Zealand's] diverse garden.
Is it really that hard to watch Bridges give National their own "Nixon Recognizes Red China" moment?
Meanwhile, the other half of the national caucus will question whether former Air NZ CEO Christopher Luxon can give the party another John Key moment.
Those with a more ruthless state of mind will ask how a clever right-wing politician could possibly envision the idea of ​​installing another "successful businessman" at the head of the National Party? Isn't one Todd Muller enough?
When will the National Party finally realize that John Key did not become one of its most successful leaders because of his career in business, but because he had an infallible instinct for where to go? politically positioned the "average Kiwis". That, and a flair for institutional politics that could just as easily have made him the head of the CTU as the Nats.
To put it bluntly: Christopher Luxon is not John Key.
Then there is the issue of Luxon's religious beliefs. Obviously, he is not the only member of the National caucus to profess the Christian religion. Bridges himself is the son of a pastor who, like Luxon and a significant number of his caucus colleagues, proclaim himself to be an evangelical Christian.
Therein lies the problem. What kind of evangelical is Luxon?
Basically there are only two kinds of evangelicals. The first (and most faithful to the biblical injunctions) is the evangelical who constantly proclaims the "good news" of Jesus Christ to the whole world. The second type of evangelical sees the hand of God at work in society and, in the case of far too many evangelical politicians (especially in the United States), feels the hand of the Almighty guiding them to roles. pre-established leadership roles. New Zealanders, for the most part secular, quickly tire of the first type of evangelism and are deeply suspicious of the second.
Now Luxon is working to reassure New Zealanders that he considers his religion to be a private matter, not to be pushed down people's throats or enshrined in the laws of their country. All right, but if that's really his position, then he can't really call himself evangelical. To shove righteousness down the throat of the sinner is the Christian duty of the noisy evangelist. A quiet evangelical, on the other hand, is almost certainly convinced that God has a special plan for him – and the country. Something that should give thought to both his colleagues and the voters.
On the flip side, Christopher Luxon strikes just about anyone who meets him, or watches him on TV, as a smart, diligent, and resourceful individual. Its novelty, seen by some as a distinct handicap, is just as easily interpreted as a recommendation. No, he doesn't have parliamentary filth under his fingernails, but he doesn't have fratricidal blood on his hands either.
By all accounts, Luxon was a very capable CEO. It's entirely possible that, by 2023, that's all most New Zealanders will be looking for.
---
* Chris Trotter has been writing and professionally commenting on New Zealand politics for over 30 years. He writes a weekly column for interest.co.nz. His work can also be found at http://bowalleyroad.blogspot.com.