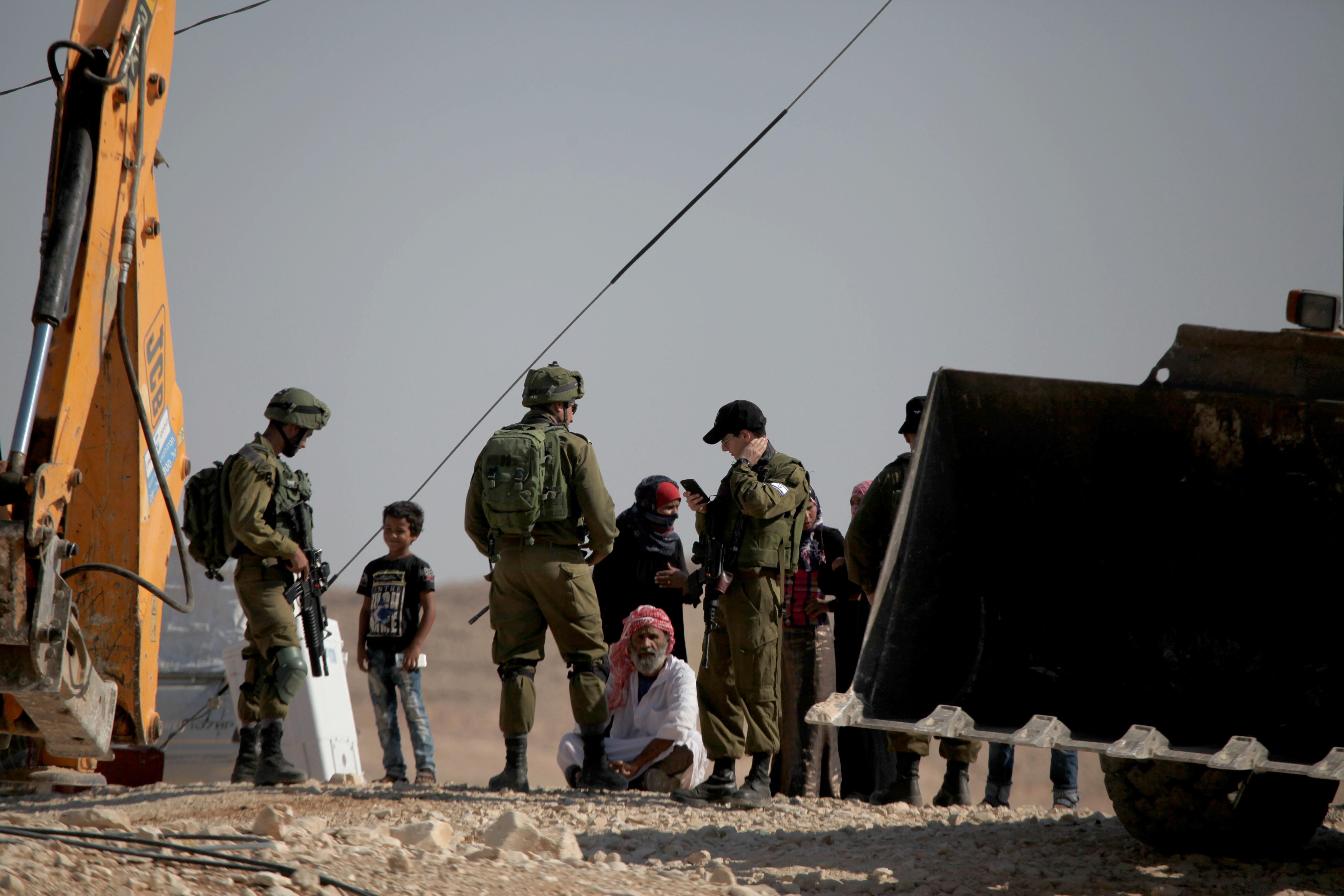 Progressives Urge Biden Administration to Stop Destruction of Palestinian Homes in the West Bank
More than a dozen Democratic lawmakers on Tuesday implored the Biden administration to immediately do everything in its power to stop Israeli forces from destroying more Palestinian homes in the occupied West Bank.
"Israel's forcible removal and transfer of Palestinians to Masafer Yatta…would amount to a war crime."
Led by Rep. Cori Bush of Missouri, fifteen progressive lawmakers sent a letter to Secretary of State Antony Blinken in which they called on the US State Department "to exert all available diplomatic pressure" to ensure that Israel does not follow through on its illegal plan to dispossess more than 1,000 Palestinians from their homes in the Masafer Yatta area.
"The Biden administration and Congress must hold the apartheid government of Israel accountable for its atrocities against the Palestinian people," Bush said. Told Jewish streams. "We must do everything possible so that the Palestinian community of Masafer Yatta can stay in their homes and live in safety and freedom.
Although the Palestinians of Masafer Yatta have lived under the threat of violent eviction by the Israeli military for decades, a final Israeli High Court ruling on May 4 gave the green light for Jewish Voice for Peace Action describe as "one of the largest forcible transfers of Palestinians from their land since 1967".
In the four weeks since the court handed down its decision in the decades-long case, evictions and home demolitions have already started to take place – "yet another example", JVP said. Action, "ongoing ethnic cleansing by the Israeli government".
Israel's recent bulldozing of several Palestinian homes and other buildings in Masafer Yatta, and its plan to destroy dozens more in the 12 villages in the area, is a gross violation of human rights and international law, lawmakers said.
"Israel's forcible displacement and transfer of Palestinians to Masafer Yatta would constitute a serious violation of the Fourth Geneva Convention and would constitute a war crime," says Bush's letter, co-signed by Democratic Representatives André Carson (Ind.), Mark DeSaulnier (Calif.), Jesús "Chuy" García (Ill.), Raúl Grijalva (Arizona), Pramila Jayapal (Wash.), Hank Johnson (Ga.), Betty McCollum (Minn.), Marie Newman (Ill.) , Alexandria Ocasio-Cortez (NY), Ilhan Omar (Minn.), Mark Pocan (Wis.), Ayanna Pressley (Mass.), Mark Takano (California) and Rashida Tlaib (Mich.).
Alluding to that of President Joe Biden statement that "human rights must be at the heart of U.S. foreign policy," the signatories urged Blinken to take the following concrete steps:
Immediately send the strongest possible diplomatic message to Israel not to expel Palestinian indigenous residents from the villages of Masafer Yatta (so-called 918 firing zone);
Call on the Israeli government to end all military training exercises and construction activities that will pressure or force residents of the historic villages of Masafer Yatta to permanently or temporarily leave their homes, or that would otherwise make life unlivable;
Publicly declare that any action by the Israeli government to forcibly transfer Palestinian residents of Masafer Yatta would be a war crime in violation of the Fourth Geneva Convention; and
If Israel proceeds with its plans to forcibly relocate Palestinian indigenous residents, the State Department and the United States Embassy in Israel should immediately, in accordance with the oversight and accountability required by the Leahy Act and the Export Act and arms control, send observers to document the mass transfer, including details of the military units involved in these operations and the use of any US weapons.
"The Biden administration's empty words of concern are not enough," said Beth Miller, policy director of JVP Action, in a statement. "Palestinians in Masafer Yatta face daily threats from the Israeli military, living the terrifying reality that their homes could be destroyed at any moment, thanks to US government funding."
"The Biden administration's hollow words of concern are not enough."
"The members of Congress who signed this letter make it clear that we must hold the Israeli government accountable for its flagrant violations of Palestinian rights," Miller added.
JVP action is one of 65 civil society organizations that endorsed the letter. Other supporters include American Friends Service Committee, Center for Constitutional Rights, Just Foreign Policy and Win Without War.
Additionally, more than 2,500 people have written to their members of Congress in recent days expressing their support for Bush's letter and demanding that the Biden administration act quickly to end the Israeli government's attacks on Palestinians in Masafer Yatta. and hold him accountable for war crimes. .
According analysis published last year by the Carnegie Endowment for International Peace, "US law is clear: all countries receiving US aid must uphold human rights standards, and countries that violate those standards are likely to be sanctioned and ineligible for U.S. funding".
In addition to being the largest cumulative recipient of U.S. military aid since 1945, "Israel is the only recipient of U.S. aid whose use of those funds is not controlled by the U.S. government," Jewish currents reported.
The output added:
Israel is required to spend about three-quarters of its annual $3.8 billion on US-made weapons, and its occupation of the West Bank is directly enforced with US-made equipment, like sniper rifles and helicopters. From 2009 to 2018, as many as 272 Palestinians were likely killed by Israeli soldiers using US-made weapons, Jewish currents'Alex Kane has reported. Israel similarly enforces its blockade of Gaza using US aid and weaponry, such as guided bombs and F-35 fighter jets.
As the Carnegie Endowment for International Peace made clear in its report, the lack of oversight by U.S. authorities "makes it nearly impossible for the Departments of State and Defense to properly implement law enforcement requirements. Leahy".