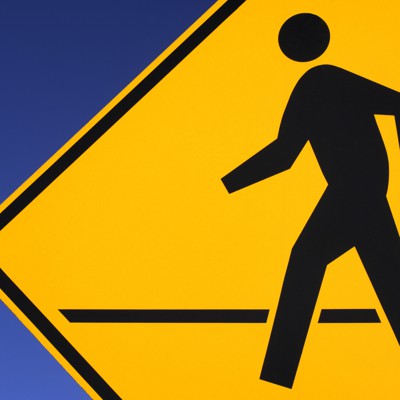 Pedestrian fatalities increased by 17% in the first half of 2021
The number of people killed in traffic accidents while walking increased by 17% in the first half of 2021, compared to a similar period the previous year.
The toll of pedestrians killed by motorists rose to 3,441 people at the start of 2021.
The Governors Highway Safety Association, a group that represents highway safety offices in each state, released the new estimates Thursday. They're based on preliminary reports that states have submitted to the federal government, but they aren't official numbers yet.
The upsurge in pedestrian deaths, however, is the latest evidence of worrying road safety patterns since the start of the pandemic.
"This disturbing projection continues a decade of rising pedestrian fatalities on our roads and comes as speeding, impaired driving and distraction, and other dangerous driver behaviors remain at unacceptable levels," the security group said in its announcement.
Pedestrian fatalities in the United States rose from 4,457 in 2011 to 6,516, a jump of 46% from that period, the group noted.
"The depth of these tragedies – 3,441 lives lost in six months – is staggering," wrote Mike McGinn, executive director of America Walks, a pedestrian advocacy group, in an email.
"It's time for politicians and agency heads to take responsibility for what they control and start designing streets and vehicles for safety, not speed. They've been telling people to drive or walk safely for a century and it doesn't work. We know what works – safe design," he wrote. "States have just received billions of dollars in infrastructure funds. Will they choose lives or tragedies?
Pandemic worsening trend
Russ Martin, senior director of policy and government relations for the GHSA, said the pandemic may have exacerbated long-term trends that are making the country's roads more dangerous for walkers. Drivers are using bigger and heavier vehicles, while states and local governments have built streets that encourage fast vehicle travel over safety, he said.
"In many parts of the country, we have roads with inadequate infrastructure to protect pedestrians. It's things as simple as sidewalks and lighting, let alone more sophisticated infrastructure," he said in an interview.
But trends in pedestrian fatalities in 2021 varied widely by state. The vast majority of states — 39 plus the District of Columbia — saw increases, but 11 states saw declines instead.
In Florida, 105 more pedestrians died in the first half of 2021 than in the first half of 2020, the highest increase of any state. South Carolina and Georgia both recorded 79 more pedestrian deaths and Texas had 42 more.
Connecticut saw the biggest improvement, with 11 fewer pedestrians killed at the start of 2021 than the year before. North Carolina, Kansas, Missouri, Nebraska and New Mexico also topped the list for reducing pedestrian fatalities.
Of course, the pandemic could also have affected the number of pedestrian deaths in early 2020, when many Americans stayed home and off the roads. But the GHSA noted that pedestrian fatalities on the roads remained stable nationwide from 2019 to 2020. In the first six months of 2019, 2,951 pedestrians died in vehicle crashes, compared to 2,934 a year later.