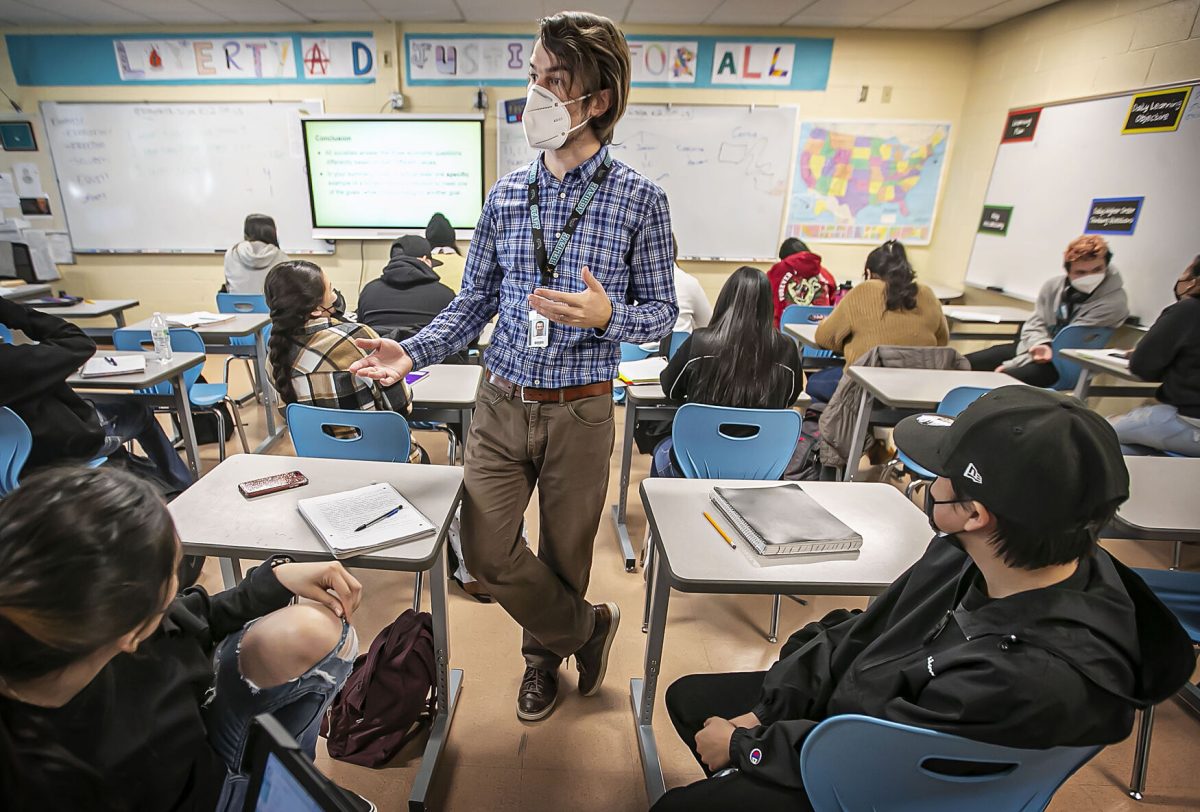 Legislature split over whether 16- and 17-year-olds should vote in local elections
By Robert Nott and Jessica Pollard Santa Fe's New Mexican
Standing in front of a crowded classroom at Capital High School, 19-year-old Monica Loya and 18-year-old Maxamillano Quintana say issues such as gender identity, climate change and immigration could take longer importance if more people directly affected could vote.
People like 16 and 17 year olds.
Loya and Quintana spent last November helping register 120 of their peers at Capital to vote and note that those in their age group – Generation Z – have been politically inflamed by Donald Trump's presidency and the growing influence of social media.
As the Legislative Assembly mulls a bill that would put the vote – at least on local issues – in the hands of people who are not recognized as adults, students like Loya and Quintana prepare to defend their peers against those wondering if 16-year-olds and 17-year-olds are mature enough to enter the voting booth.
Their answer: Yes, we are.
"It will give a chance to children who want to do it," Loya said of the legislation introduced last week. "It could also prepare them for big votes in the future."
Senate Bill 8, dubbed the New Mexico Voting Rights Act, aims to increase voter turnout and access to the polls through a number of measures, including allowing youth ages 16 and 17 year olds from across the state to vote in local elections.
In the long term, proponents of the idea say the change will cement lifelong voting habits and inject new energy into the state's voter base. If passed, the bill would make New Mexico the first state to expand local ballot access to teens, though several cities across the country, including five in Maryland, allow people of those ages to vote. in municipal elections. (The federal voting age is 18, but about a third of states, including New Mexico, allow teens who are 17 but will turn 18 in the general election to vote in the primaries.)
One of the bill's sponsors, Rep. Javier Martinez, D-Albuquerque, said it was time for the initiative.
"We trust 16 and 17 year olds to work," he said. "We hope they pay their taxes. We trust them to drive a car. We trust them to have a driver's license. We trust them to be safe on the road, to pay the insurance.
Now, he says, it's time to trust them with a vote.
Martinez has twice previously tried unsuccessfully to pass legislation to give under-18s a chance to vote in school board elections during the 2015 and 2017 legislative sessions — particularly after a school board election in the town of Hagerman in southeastern New Mexico failed to attract a single voter. years back.
"Voter turnout is a real problem," he said, explaining the need to pass this legislation now.
Secretary of State Maggie Toulouse Oliver said the same during a virtual press conference on the legislation on Wednesday.
"We are seeing a lot of activism across the country from these high school students facing arrangements made by local governments and school boards that impact their daily lives – whether it is wearing masks or wearing masks. be vaccinated; whether it relates to gun violence in schools; if it makes queer or trans kids feel safe in their schools," she said.
Whether the state – or the country – is ready for it is another matter. According to a 2019 The Hill-HarrisX poll, only 25% of respondents wanted to give 17-year-olds the right to vote and only 16% wanted to allow 16-year-olds to vote.
Republicans, according to the poll, were more likely to oppose such measures, with opposition in the 1980s. Independent voters were not much more enthusiastic: 74% were against the 17-year-old vote; 84% were against the 16-year-old vote.
The small town of Takoma Park, Maryland gave 16- and 17-year-olds the right to vote in the 2013 local elections. Mayor Kate Stewart said it paid off by increasing voter turnout and involving young people in local issues. She formed a youth council to maintain this commitment and provide insight and information to the city's governing body.
She does not accept the argument that some 16 and 17 year olds are not mature enough to vote.
"A lot of these arguments are the same ones you hear about denying other people access to vote – they don't know enough, they don't care, they'll be swayed by someone else or their parents," she said. "It's the same argument they made when it came to giving women the right to vote."
In the 2013 elections in Takoma Park, 134 16- and 17-year-olds registered to vote and 59 voted, or 44% of those who registered voted.
The numbers didn't immediately increase in the next two elections, but the city did see a jump in the last two elections. In 2017, 138 young people aged 16 and 17 registered and 68 voted, or about 48%. In 2020, 191 young teenagers registered, with 132 votes – 69%.
Some who deal with 16 and 17 year olds on a daily basis think the ability to vote would be educational.
"It's a fine line to walk to make sure teachers and the system itself aren't trying to manipulate their vote," said Eric Brayden, Capital's social studies professor, who has Quintana and Loya. in class. "But I think with something like a school board [race] and having an election to participate in… I think that would be a really valuable learning experience.
Alex Koroknay-Palicz, the former executive director of the National Youth Rights Association, which helped push the initiative forward in Maryland, said it stands to reason young teens would want their voices heard in ballot boxes.
"They use city parks, they go to city schools, they are victims of local crime," he said. "They have these lived experiences impacted very directly by government policy. And without their experience and input, elected officials don't really understand the big picture. »
He agreed with others who argue that such initiatives also establish voting habits that will pay off down the line.
In Santa Fe, 17-year-old Jazmin Rodriguez, a teenager at Monte Del Sol Charter School, feels the same way. She remembers being frustrated last year as she helped register new voters for an election she couldn't vote in. She turns 18 in September and plans to vote for the first time in next November's election.
She said not all young voters will be equally interested or studied in the issues or the candidates, and she expects many won't take advantage of the new opportunity if SB 8 becomes law. Still, she says, the opportunity is significant.
"Having that representation in local government, allowing us to voice our concerns and actually exercise our democratic rights at this age is important," she said.
Other New Mexicans agree. Santa Fean Mariah Schwager, 24, said she was supportive of the initiative, noting "16, 17 is about the age where you start to care about what's happening to you and around you" . She said some teens might start acting more responsibly if they had the added responsibility of voting.
But some wonder what the experience of teenagers is like and whether they could be more easily manipulated.
At the DeVargas Center, a 77-year-old man who declined to be named said members of the new generation are less "naive" than he was as a teenager. Nevertheless, he believes that voting should begin at the start of Selective Service registration, at age 18.
"At 16 or 17, you really don't have a lot of experience," he said. "I remember at that age I was quite easily manipulated."
He added: "By the time you turn 18, you are accountable to the country."
The New Mexico League of Women Voters Elections and Voting Director, Renny Ashleman, said the group supports the bill as a whole, but does not advocate for or against lowering the voting age. vote in local elections.
The bill's sponsor, Sen. Peter Wirth, D-Santa Fe, said he expects considerable debate over the bill, which has various facets — including provisions that would make Election Day on a holiday, would create a permanent list of absentee voters and allow residents who do so. not have a Division of Motor Vehicle-issued ID card to register online using their Social Security number. He is to be heard for the first time this week before the Senate Rules Committee.
It's unclear whether Republican senators will support the bill, with any or all of its elements. Senate Minority Leader Greg Baca, R-Belen, said at the start of this year's 30-day legislative session that he was against allowing young New Mexicans to vote because they don't are not mature enough.
Baca did not return a call seeking comment.
Rep. Jim Townsend, R-Artesia, said he was open to discussing the young teens component of the bill.
"Every organization wants young people involved, and so do we," he said. "But at the same time, you want to make sure everyone involved has the experience to make the right decisions.
"I can't wait for these 16-year-olds to turn 18 or 19 and get involved in the political process."
Koroknay-Palicz said that ultimately giving these teenagers the right to vote would instill a sense of political and civic engagement that could last a lifetime.
"A lot of politicians and public policy experts warn over and over again that young people shouldn't get into bad habits because they will stick to them," he said. "But voting is a good habit."