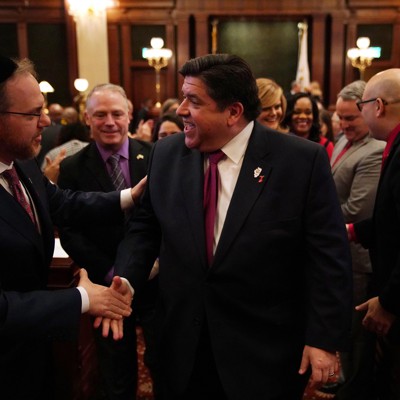 In a state notorious for its fiscal mess, the glimmers of a turnaround
Illinois voters are used to hearing about the poor state of their state's finances. Now, however, Illinois officials are painting a much different picture, one of responsible fiscal management, as they head for re-election.
"For years in Illinois, they left bills unpaid, ruined our credit, and racked up over a billion dollars in interest penalties," Gov. JB Pritzker, a Democrat, said in a TV spot. January for his re-election campaign.
"As governor, I was determined to help fix the financial mess. Now Illinois is delivering on its promises by moving to true balanced budgets," he added. "We're cutting costs, paying bills on time and paying down our debt, saving taxpayers hundreds of millions of dollars. And our credit rating was upgraded for the first time in 20 years.
"We're on the right path and I will work every day to keep it that way," Pritzker said.
Pritzker and other Democrats who control state government in Springfield are making similar presentations, not only to voters, but also to bond rating agencies and out-of-state critics.
"Our view is that the state is moving in the right direction," said Eric Kim, head of U.S. state ratings for Fitch Ratings, which knocked Illinois' bond rating one notch above. the status of junk bonds at the start of the pandemic.
Fitch was the last of the three major bond rating agencies to place Illinois on the brink of junk bond status, but the other two rating agencies raised Illinois' bond rating last summer. The upgrades were the first time in two decades that Illinois received better bond ratings.
If trends continue, Kim said, Fitch could also improve its rating for Illinois bonds. "We've seen positive things over the last year and a half," he said.
Start in a deep hole
Decades of financial mismanagement have plagued Illinois state finances, but the situation was bleakest five years ago. Bruce Rauner, the Republican governor at the time, tried to force the Democratic-led legislature to limit the power of the unions before he agreed to sign a state budget. The standoff lasted more than two years, during which time Illinois limped along with no spending plan.
It touched almost every aspect of state operations, but especially universities and social services. The backlog of unpaid invoices soared to $16.7 billion and suppliers waited six months or more to be paid. Government bond ratings continued to decline, almost to the point that they were no longer considered investment grade. Slipping into junk bond territory would have had cascading effects on state finances. That, along with the devastation the standoff brought to local service providers, was a key reason a handful of Republicans joined with legislative Democrats to pass a budget despite Rauner's veto and end stalled in 2017.
Pritzker overwhelmingly defeated Rauner in the 2018 election. Much of Pritzker's message was to restore competence and fiscal management in state government.
The pandemic threatened those plans. Illinois had been hit hard by the Great Recession, and due to the fiscal stalemate, it had virtually no reserves heading into the Covid-19 crisis. As the economy ground to a halt and the federal government deferred tax filings into a new state fiscal year, the fiscal picture looked grim.
"We weren't prepared at all, but that's inexcusable, because it [budget standoff] was a man-made disaster," Illinois Comptroller Susana Mendoza said. Road Fifty in an interview. "It was a self-inflicted wound at Illinois."
The lack of a cushion is one of the reasons Fitch downgraded Illinois bonds at the time. And that turned out to be prescient. Illinois was the only state to borrow money from the Federal Reserve under a special program to help state and local governments deal with the economic fallout from the pandemic.
But as revenues have recovered, Illinois' finances have also increased. The state prepaid its loan to the Fed with a tax revenue surplus.
Like other states, Illinois received significant direct assistance from the American Rescue Plan Act, which President Biden signed early in his term.
While congressional Republicans slammed the $350 billion support for state and local governments as a blue state bailout, Fitch Ratings analyst Kim said other federal backers had helped Illinois and other states even more.
"Frankly, the entire country, every state, every city and every local government has benefited from all the economic stimulus provided by the federal government – ​​trillions and trillions of dollars," he said.
Stimulus checks, improved unemployment benefits and business loans "have saved the economy and supported state and local governments," Kim said. "The fear was that the bottom would fall out of the economy…Because the federal government stepped in with trillions of dollars in aid to support the economy, those worst-case scenarios didn't happen."
Of course, direct aid has also been helpful, especially for Illinois, he said. Lawmakers have spent much of the money on one-time projects, rather than recurring spending that could squeeze future budgets. In late March, Illinois lawmakers passed legislation allowing ARPA money to be used to repay $2.7 billion of the $4.5 billion the state owes the federal government for unemployment insurance costs that have skyrocketed during the pandemic. The same law also helped pay off long-standing health insurance debts for state employees and added money for the state's notoriously underfunded pension systems.
Make progress
Illinois officials have reduced other longstanding financial problems.
Last week, the comptroller's office repaid the last $297 million in short-term borrowings in various public accounts that it had used to weather the budget stalemate. The somewhat murky accounting achievement is one of the steps Fitch said it is taking to consider upgrading Illinois bonds.
Mendoza also took the opportunity to announce, in essence, that the era of Illinois' backlog of bills was over. The state had paid its bills within 15 business days since July, meaning unpaid bills would now simply be called "accounts payable," she explained.
The Comptroller, a Democrat from Chicago, has had to manage Illinois' cash flow through tumultuous times. She had to decide which bills to pay and when. That meant prioritizing Medicaid bills and other expenses that would come with federal matching.
Mendoza advocated short-term borrowing to avoid paying high interest rates on overdue bills. Last month, she came to Washington to advocate for legislation to cancel the interest that Illinois and other states must pay on unpaid unemployment insurance debts. She is also pushing for better funding for a state rainy day fund.
"The reason you hear me having a certain level of confidence here is that the worst virus to ever hit our state's finances wasn't Covid, it was Bruce Rauner," she said. "As a controller, if I could get away with it, nothing would scare me."
A skeptical public
The idea that Illinois is fixing its fiscal mess is not an easy sell.
"The fact that we were able to turn the tide, not during the best economic bull market of our lifetime, but during a frightening global pandemic, is impressive no matter who you are," Mendoza said. "I know that's a hard story to believe because we're not used to believing good news about Illinois."
Chris Mooney, a political science professor who studies state politics at the University of Illinois at Chicago, said voters generally don't follow the ins and outs of state government, so the improvement in Illinois government finances might not have registered with them.
"Bad news gets more attention than good news. So if the budget crashes and burns, people pay more attention to it than if [the state] increases its rainy day fund by 2%," he said.
But the way most voters get their information about the state government, he pointed out, comes from political campaigns. Pritzker, who recently donated $90 million of his fortune to his re-election campaign, can hammer home the message and eliminate Illinois' budget problems for Republican challengers, Mooney said.
In fact, the improving fiscal situation could put those GOP candidates in a bind, as many in the state associate Illinois' fiscal troubles with Rauner, a Republican governor.
"Republicans will be hoisted on their own firecracker, because they've been hammering this for so long," Mooney said. Now Pritzker can say, "We solved that problem," Mooney said.
"Although [the budget] is usually an annoying problem, in Illinois over the last 15 to 20 years it's been really, really salient," he added.
Big problems remain
Despite all the recent good news, Illinois still faces monumental financial challenges. The state has an unfunded pension liability of $130 billion, meaning its system is only 46% funded. Experts warn that its tax structure will continue to produce budget cuts because its sales tax largely applies only to goods, not services.
Pritzker attempted in 2020 to gain voter approval for an amendment to the state constitution that would allow the state to use a graduated income tax, rather than the flat rate it has. But that idea failed, garnering only 47% of the vote, compared to the 60% threshold it needed.
"Part of the reason voters rejected the proposal … is because of a lack of trust in elected officials to be good fiscal stewards," said Amanda Kass, associate director of the Government Finance Research Center at the University of Illinois at Chicago.
Voters were also wary of Springfield, as longtime House Speaker Mike Madigan was in charge despite a growing corruption scandal involving some of his closest allies. House Democrats expelled him last year and he was indicted in March.
Kass said the developments could eventually win back favor with Illinois voters.
"It's important to demonstrate to Illinois taxpayers and residents that politicians can be responsible fiscal stewards," she said. "Having this kind of [budget] change and political shifts in the House of Representatives could lead voters to trust their elected officials more. This may lead to the ability to have a progressive income tax, but it will take years.