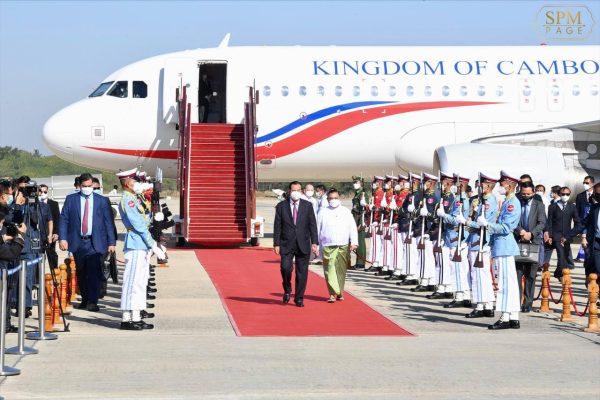 Cambodian PM urges Myanmar not to execute political prisoners – The Diplomat
Beat ASEAN

|

Policy

|

South East Asia

Earlier this month, the military junta announced that four people would be hanged for treason and terrorism.
Cambodian Prime Minister Hun Sen has urged Myanmar's military government not to carry out planned executions of four political prisoners, suggesting the move will further isolate the junta and create new obstacles to peacemaking.
In a letter to Senior General Min Aung Hlaing dated Saturday, a copy of which was obtained by the Associated PressHun Sen wrote that "With deep concern and sincere desire to help Myanmar achieve peace and national reconciliation, I would like to urge you and the State Administrative Council (SAC) to reconsider the sentences and refrain from carrying out the death sentences pronounced against these anti-SAC individuals.
Earlier this month, a spokesman for the military junta announced that Phyo Zeyar Thaw, a former lawmaker in the ousted National League for Democracy (NLD) government, and Ko Jimmy, a veteran pro-democracy activist, would be executed. for violating the country's counter-terrorism. law, after seeing their appeals dismissed. Two other men were also convicted of murdering a woman they believed to be a military informant. The four are among about 114 people who have been sentenced to death by military courts since the February 2021 military coup, mainly for leading an armed struggle against the military junta, in addition to at least 1,929 people who were killed by the security forces.
The announcement of the execution, which marks a chilling new extreme for an army with a long history of human rights atrocities, has drawn a wave of criticism from foreign governments and international organisations. In a June 10 statement, two United Nations human rights experts describes death sentences as "a vile attempt to instill fear among the people of Myanmar".
The Cambodian government is generally not known for its adherence to human rights standards, but it is one of two Southeast Asian countries, along with the Philippines, to have banned the death penalty. Indeed, I have argued before that the abolition of the death penalty in Cambodia in 1989 could ultimately be seen as one of the few lasting legacies of the opening of the country in 1989-93, when moved from a socialist regime to a multi-party democracy under the aegis of the UN
Hun Sen's letter, which he wrote as the current chairman of the Association of Southeast Asian Nations (ASEAN), comes ahead of a visit later this month by the UN's special envoy. 'ASEAN and Cambodian Foreign Minister Prak Sokhonn. The Visit from June 29 to 30 will be the second envoy since taking office earlier this year, and should see renewed efforts to hold the junta to the five-point consensus agreed during an ASEAN plan last year.
But the impending executions once again show the junta's contempt for the Consensus, which calls for an immediate cessation of violence, in addition to an inclusive political dialogue involving "all parties" to the conflict in Myanmar.
While the military junta has condemned criticism from foreign nations as "irresponsible and reckless", it may possibly seek to "trade" clemency for the four prisoners in return for some sort of political advantage, and drag on. But without it, Min Aung Hlaing is unlikely to listen more carefully to Hun Sen than Western leaders.